In September, we wrote here that some state lawmakers had work to do in order for families to make the most of their personal savings for their child's education. This week, a new Heritage Foundation report provides an updated state-by-state analysis of what's happening with federal law, state laws, and families' attempts to save for private K-12 costs and college expenses.
In 2017, as part of the Tax Cuts and Jobs Act, federal officials expanded the uses of 529 college savings plans to include K-12 private school tuition. Under federal law, families can now save money in these plans to help pay for private school tuition along with the postsecondary expenses already in Section 529 of the Internal Revenue Code.
Yet some state laws are written such that families can only use 529 plans for college expenses. Take Alabama: "Qualified higher education expenses" for 529 plans in state law only include college expenses. Lawmakers introduced a bill earlier this year to align the allowable uses in state law with the federal changes, but the K-12 provision was removed from the text before passage.
Our review of states across the U.S. finds that more than half have similar conflicting provisions between state code and federal law. Some policymakers have already made adjustments. In Louisiana, state policymakers revised state statutes and created a new savings plan to allow for K-12 opportunities. In Oregon, lawmakers did the opposite and enacted provisions blocking the new option.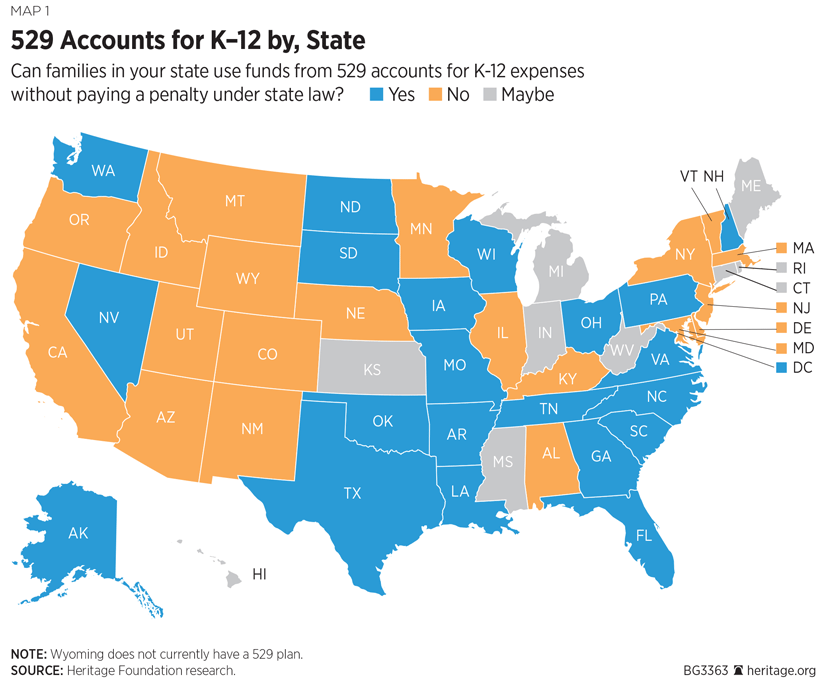 Opponents to the federal changes say the added benefit will be small and help wealthy families the most. Such claims dismiss a key feature of these changes—families now have more options with their own money. And Washington should not create large-scale K-12 parent choice programs such as tax credit scholarships or education savings accounts using federal law. Certain student groups aside—such as Native American students or some children in military families, groups already under federal purview—education choice policies are better suited in principle and in practice at the state level.
Some account holders may not have enough time for their 529 to grow before a student finishes their K-12 career. For others, saving early in a child's life will be important to make sure the student has a quality high school experience.
Either way, that's a decision for families to make. No one is required to use their 529 account for K-12 expenses. Likewise, state lawmakers should not limit a student's options. It is impossible for observers or policymakers to identify the specific students for whom the option is a good fit. This is all the more reason for states to make sure this new opportunity is available to everyone—so that parents and families can make the best choices for their children.
Read more articles:
by author
on affordability